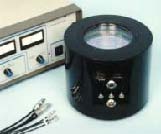 IC Optical Systems Ltd 公司是世界上生产口径最大的标准具(Etalon)的唯一生产厂家。直径最大可到150mm,标准距被大量用于激光腔中的线宽压缩,还可作为宽带皮秒激光器中带宽控制以及调谐器件,还包括激光线宽检测,可广泛应用于天文,遥感探测等用途。
我们的标准具具有实时反馈和校正系统,系统采用闭循环结构,采用电容反馈系统实时监控标准具受温度压力等外界因素的影响;采用压电陶瓷精确控制调节标准具内部的间隙、偏角和俯仰。
标准具针对波长连续可调,适用波长范围:180-1500nm,1um-15um,可选择采用预对准系统对系统进行校正。
CS100 Controller & ET Series Etalons
What is the ICOS system?
The ICOS servo-stabilized Fabry-Perot interferometer system comprises ET-Series II PZT tuned etalons, and the unique CS100 control unit, which stabilizes the spacing and parallelism of these etalons to an unrivalled degree of accuracy. As a turn-key system, power-up to operation need only take minutes. The unique construction of ET-Series II etalons ensures th at when the recommended balance conditions are dialled into the CS100, the etalon will be aligned and ready for use.

How does it work?
The CS100 is a three-channel bridge system which uses capacitance micrometers and PZT acuators, incorporated into the etalon, to monitor and correct errors in mirror parallelism and spacing. Two channels control parallelism and the third maintains spacing by referencing the cavity length-sensing capacitor to a high stability standard referen ce capacitor, also located in the etalon. Because this is a closed-loop system, non-linearity and hysteresis in the PZT drive are eliminated entirely, as of course are drifts in cavity parallelism and spacing. The CS100 can be operated manually from front panel controls, or under computer control using either the IEEE-488 or RS232 interfaces, or the analog drive input.
How stable is it?
The CS100 will control the spacing and parallelism of an ET etalon to better than 0.01% o f a Free Sp ectral Range (FSR). The stability of a transmitted wavelength will depend on the ambient environment, and can b e as good as 1 part in 10¹º if the etalon is mounted in the optional sealed cell and the system carefully temperature controlled. Under either computer or manual control, the CS100 allows random access tuning of an ET-Series II etalon over its spectral range with sub-millisecond response time.
The CS100 Controller.
The high quality modular constru ction of the CS100 makes it robust and reliable. High quality precision components are used throughout to ensure the performance of the unit. The standard equipment includes an RS232 interface, allowing full remote control of the etalon parallelism, mirror spacing and system response time. A ±10V analog input gives linear control of the etalon spacing over a range of approximately ± 1µm.
CS100 Specifications
Electronic Noise Equivalent
Displace-ment of Etalon Mirrors (with standard 3m cables)
10pmHz-1/2RMS
Electronic Drift
(Temperature Stability)
0± 50pm C-1
Setting Time (Response to step input)
<1.0ms
Resolution
12 bits
Output voltage to Piezo-electric
Trans-ducers
±750 V
Interfaces
RS232
Analogue Input
±10V
Operational Temperature Range
0-50oC ambient
Size: 19 inch rack
483 x 133 x 380mm
cabinet
520 x 153 x 400mm
Mains Voltage
210-260 VAC or 0-130 VAC at 50/60Hz
ET-Series II Etalons
Tunable by up to 15 orders in the visible, these etalons are cemented and optically contacted and thus making their construction mechanically robust with an exceptionally high level of vibrational immunity.
ET-Series II Etalon Specification
Clear Apertures
28mm, 50mm, 70mm, 85mm, 100mm, 116mm, 150mm
Surface Quality
FS etalons λ/50, λ/100, λ/200 (λ= 633nm) before coating
 
WF etalons λ/50 (λ= 633nm)
 
CQ etalons λ/200 (λ= 633nm)
 
ZS etalons λ/100 (λ= 3μm)
Wedge Angle
Zero ± 1 fringe or 10-15 arc min (nominal)
Mirror Spacing
Specified by user in the range 3μm-100mm
Cavity Tuning
CQ, FS and WF etalons 3μm (nominal)
Range
ZS etalons 7.5μm (nominal)
FS . Fused Silica,
WF . Water-free Silica,
ZS . Zinc Selenide,
CQ .Crystal Quartz.
用户:
Optics for Wind Imaging Interferometer (WINDII)
NASA Upper Atmosphere Research Satellite (UARS)
Image derotator prism system for 4.2m William Herschel Telescope
Royal Greenwich Observatory
Grooved Fabry-Perot substrates for Large Angle Spectrometric Coronagraph (LASCO)
NASA/ESA Solar Heliospheric Observatory (SOHO)
UV catadioptic systems for chemical processing at 193nm
MIT Lincoln Laboratory
Etalons for Doppler Wind Lidar systems
NASA Goddard Space Flight Center

University of Science and Technology of Chin

a