Multiplexed NIR spectrometer technology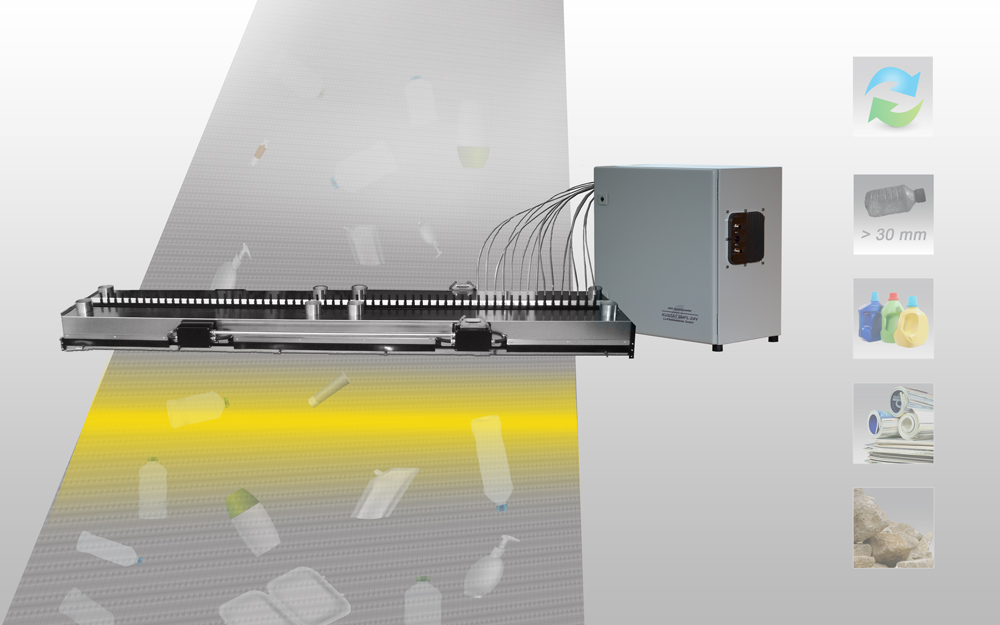 Material identification in sorting plants
Multiplexed NIR spectrometer KUSTA1.9MPL-24V(formerly KUSTA1.9MPL) is a fast scanning near-infrared sensor, which is used for the identification of bulk solids in sorting plants. On a conveyor belt the singulated material is passed by under the illumination unit and the reflected radiation is transferred to the optical multiplexer via fiber cables. The multiplexed spectrometer scans the 64 measuring tracks at frequencies of up to 70 Hz and sends the identification results to the process control via an ethernet protocol.

KUSTA1.9MPL-24V is mainly used in plastic- and waste paper recycling. Depending on the application certain standard identification routines are included, which enable to reject several material types referring to freely selectable criteria.

In the version "-24V", which is available from January 2016, the optical multiplexer, the spectrometer and the RGB sensor come in a separate housing of protection degree IP65, which can be mounted directly at the probe. Due to the high scan rate, materials on even 2 to 3 m wide conveyor belts can be identified at speeds of up to 3 m/s. For the detection of smaller particles (< 30 mm in diameter) hyperspectral imaging cameras KUSTAx.xMSI are recommended.

Additional equipment is described below.
Suitable software for LLA NIR technology is described here.

Schematic illustration of a sorting plant based on KUSTA1.9MPL-24V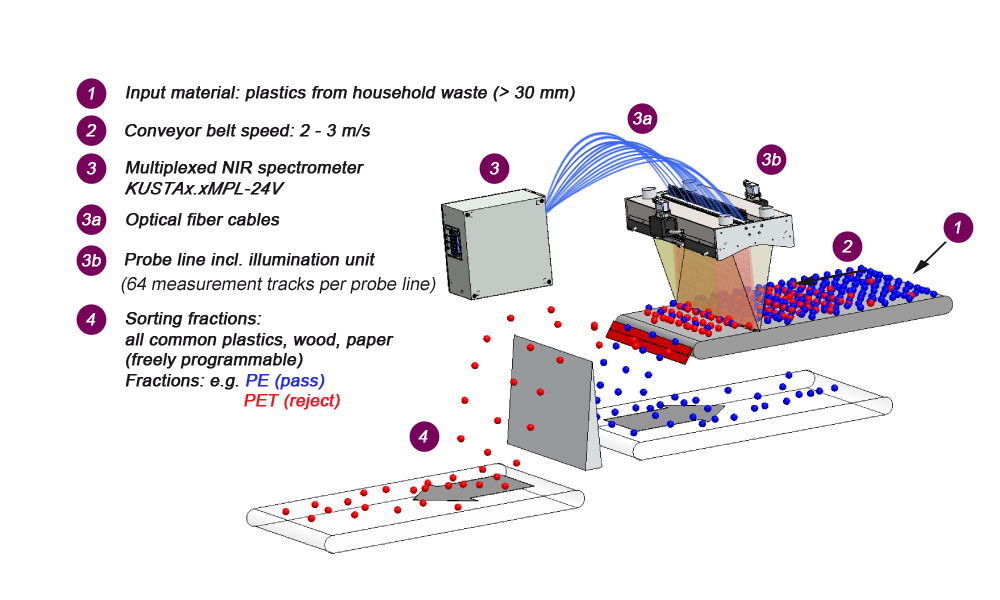 Technical specification KUSTA1.9MPL-24V
KUSTA1.9MPL-24V
Method
Non-contact and non-destructive testing (NDT) method based on NIR spectroscopy;
Detection of absolute remission as a function of the wavelength
Wavelength range
1.36 µm - 1.94 µm
Spectral resolution
< 8 nm
Dispersion per pixel
4 nm
Scan rate
30 Hz - 70 Hz
Number of measurement tracks
Max. 64
16bit RGB sensor
Integrated
Operating voltage optical unit
24V DC, max. 3,6A (without industrial PC and control cabinet heating)
Operating voltage industrial PC
24V DC, max. 4,8 A
Operating voltage control cabinet heating
24V DC, 7A, 150W
Voltage 24V
power supply
90…265 V AC, 50-60 Hz, fuse 20 A (T)
Input: 100 V ... 240 V AC; Output: 24V DC / 20A
Environmental operating temperature
+5 °C to +55 °C
Environmental operating humidity
In process: 5 % - 95 %
20 % - 95 % rel.
Weight
31 kg
Dimensions (LxWxH)
500 mm x 500 mm x 300 mm
Base device
Optic module containing the spectrometer, optical multiplexer and control electronics in a housing of protection class IP65, external: industrial PC, 24V power adapter
PC configuration
Operating system Windows® 7 Embedded, 1,7 GHz, 8 GByte RAM, Solid State Disk 80 GByte, conectivity: DVI, COM, USB, Ethernet
Software
Control software KustaMPL, customer specific analysis routines
Optional: spectrometric development environment KustaSpec
Operation
Process mode: the process unit interacts via Ethernet interface with the industrial PC, which evaluates the spectra. Controling the system with a TFT display, mouse and keyboard for service purposes is possible but is not included in the scope of delivery.
Probe lines
PMAmpl (Remission) or PMT (Transmission)
Scope of delivery
Multiplexed NIR spectrometer KUSTAx.xMPL-24V, industrial-PC, 24V power supply

Product picture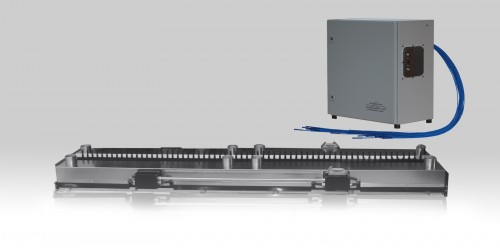 Download product brochure
Optional Equipment