Barber-Nichols Inc. (BNI) specializes in pumps for the aerospace industry. Innovative design experience, expertise with exotic materials, and AS9100:2004 quality standards make BNI an obvious choice for the design and production of aerospace hardware.
Small, Lightweight, High-Speed Machinery
400 Hz AC & Brushless DC Motors
Air, Process & Liquid Cooled Motors
Hermetic and Sealed Designs
Integrated or seperate sensored and sensorless controllers
Model BNP-21-000 Deionized Water Pump In X-38 Crew Return Vehicle
BNI can custom design a small, fast and lightweight aerospace pump for your application. The model BNP-21-000 shown above uses a canned motor for a hermetic design water pump that runs a partial emission impeller directly driven by a 28 volt brushless DC motor. Many other similar designs are available for a wide range of fluids and performance.
BNI also provides a standard line of time-tested Avionics Cooling Pumps. These pumps are centrifugal designs with close-coupled shafts and integral mechanical seals. BNI also specializes in the design and production of customized pumps for a wide variety of other aerospace applications including life support and environmental control.
The Model 744000 Avionics Cooling Pump (NSN: 4320-00-184-9007) is used to cool electrical systems on the C-130 Air Transport. The pump weighs a mere 4.3 kg (9.5 lbs) and circulates a 50/50 mix of either ethylene-glycol and water or propylene-glycol and water. 400 Hz electrical power drives the pump and it circulates 15 l/min (4 gpm).
Model 744000 (NSN: 4320-00-184-9007) Avionics Cooling Pump in C-130
The Model 411000 (NSN: 4320-00-050-8205 & 4320-00-152-1488) is used to pump MIL-H-5606 Oil, also on the C-130 Air Transport. This pump is also an extremely lightweight 4.3 kg (9.5 lbs), is driven by 400 Hz electrical power, and circulates 72.7 l/min (19.2 gpm).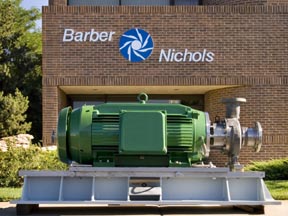 Barber-Nichols was awarded a NASA Phase II SBIR to design and produce two 204 m3/hr (900 gpm) liquid oxygen propellant loading pumps. NASA used one 273 m3/hr (1,200 gpm) pump to load the Space Shuttle's liquid oxygen propellant tank. The two new BNI pumps utilize improved, highly reliable shaft seals, and are designed to be piped in parallel. The use of two pumps in parallel will increase the rate at which spacecraft are loaded to 408 m3/hr (1,800 gpm). The pumps are also controlled by variable frequency drives and should one pump go offline, the flow through the remaining pump can quickly be increased to 273 m3/hr (1,200 gpm). If confronted with a mechanical failure, this redundant pump system minimizes launch delays.
Please contact us for more information about our aerospace pumps.




Barber-Nichols Inc. (BNI) has extensive experience designing pumps for a wide variety of applications including liquid and two-phase computer coolant pumps for high-heat flux semiconductor devices. Microprocessor advancements led to extremely high semiconductor heat concentrations and traditional forced air coolers and heat pipes struggle to provide satisfactory cooling without increased fan noise and large heat sinks. BNI developed several prototype metal and plastic computer coolant pumps that provide circulation for advanced liquid cooling applications.

BNI's computer coolant pumps are designed to maximize reliability while minimizing production costs. These pumps integrate a brushless DC motor into the impeller which eliminates the need for dynamic seals that can wear and leak. Pumps have been designed to operate in hermetic loops using water, ethylene glycol, propylene glycol, refrigerants, and even liquid metal. Barber-Nichols has the ability to design the pumping mechanism, electric motor, and control circuitry down to sub-Watt power levels. These pumps can also be utilized by microwave transmitter/receiver components that require high heat flux cooling solutions.
Cryogenic Pumps
In 1974, the National Institute of Standards and Technology (NIST) contracted Barber-Nichols Inc. (BNI) to design and produce a cryogenic pump for liquid helium in their laboratory. This pump's performance exceeded NIST's expectations and BNI's entrance into the cryogenic industry began. Since that time, Barber-Nichols has developed turbomachinery for a myriad of cryogenic applications at temperatures down to 2.6 K and BNI's reputation as an international manufacturer of specialty cryogenic pumps, circulators, and compressors flourished. BNI incorporates both hermetic and low heat leak features into many of its cryogenic pumps which are crucial in such applications.

BNI has supplied cryogenic pumps for circulating helium for cooling magnets in superconductors, sub-cooled nitrogen in cables for high temperature superconductors, nitrogen for cooling crystals in synchrotron beamlines, argon for use in detectors on superconductors, hydrogen in rocket propellant densification systems, etc. BNI has also produced Liquefied Natural Gas (LNG) pumps for filling trucks and high flow pumps that rapidly transfer Liquid Oxygen (LOX) to rockets prior to launch. Additionally, BNI has designed and built cryogenic argon and krypton pumps for CERN and LOX pumps for laser systems.

In addition to producing cryogenic pumps for helium, hydrogen, nitrogen and oxygen, BNI also produces pumps for argon, methane, krypton, LNG, neon and xenon. And when cryogens must be kept ultra clean, magnetic couplings can be used to hermetically isolate the cryogen from the motor and its bearings.

Please contact us to discuss your cryogenic pump requirements. BNI has more than a hundred existing models and can produce custom pumps specifically for your application.

Below are more in-depth pages covering the most common cryogenic fluids:

Liquid Helium Pumps
Liquid Hydrogen Pumps
Liquid Nitrogen Pumps
Liquid Oxygen Pumps
Low Pressure LNG Fuel Pumps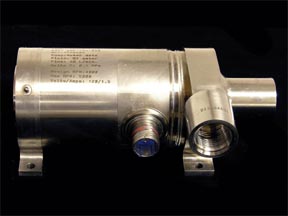 Barber-Nichols designs and produces custom cooling pumps for fuel cells used in aerospace or other specialty applications. These compact pumps are typically hermetically sealed with canned motors if the fluid cannot be in contact with the motor stator. The simple design philosophy usually incorporates the motor rotor and pump impeller on the same shaft with pumped fluid compatible bearings. The goal for customized designs is for maximum efficiecny and reliability in the smallest volume possible.
Features Include:
Variable Speed to Maximize Performance Range and Efficiency
Customized Controllers Integrated or Supplied Separately
Brushless DC at Specified Voltage or 400 Hz Options
Small and Lightweight
Process Fluid Lubricated Ball or Hydrodynamic Bearings
Customized Connections and Mounting
High Temperature Operation Designs Available
Since 1972, Barber-Nichols Inc. (BNI) has produced Marine Pumps for high-performance ocean-going vessels. BNI designed and produced self-priming fuel pumps, bilge pumps, macerator pumps, chill water pumps, engine wash pumps, electronics cooling pumps, as well as pumps for fuel cells.
Barber-Nichols Marine Pump in S-80 Class Submarine
The Model 815000 Marine Pump (NSN: 4320-01-206-4439) is a gas turbine engine wash pump on the Landing Craft, Air Cushion (LCAC). The unit weighs 15 kg (34 lbs), pumps water at 57 l/min (15 gpm), and is driven by 400 Hz electrical power.
Barber-Nichols Model 815000 Marine Pump in Landing Craft Air Cushion (LCAC)
The Model 817000 Marine Pump (NSN: 4320-01-304-6924) circulates Coolanol 25, and/or PAO in the MK 92 Fire Control System's (FCS) Combined Antenna System. The unit weighs 3.9 kg (8.5 lbs), pumps coolant at 26 l/min (7 gpm), and is driven by 400 Hz electrical power.
Barber-Nichols Model 817000 Marine Pump in MK-92 Fire Control System (FCS)
Barber-Nichols produced cooling/firefighting pumps for Kawasaki's Jetfoil and for the U.S. Navy's Pegasus Class Hydrofoil. Each vessel carried two pumps; one is electrically driven and the other is hydraulically driven. The pumps processed seawater and were regularly used for equipment cooling; however, in an emergency they could be used for firefighting. The use of one electric and one hydraulic powered pump creates a redundant system that is not dependent upon a single power source. In the event a fire damaged the vessel's electrical system, the hydraulic powered pump could still be used to control the fire.
Marine pumps designed, or modified, for military applications are subject to the International Traffic in Arms Regulations (ITAR) and may not be exported, released, or disclosed to non-U.S. Citizens inside or outside the United States without prior written approval from the U.S. Department of State.

Barber-Nichols Inc. (BNI) offers a wide range of prototype and modified military vehicle pumps. Military vehicles are becoming lighter, smaller, faster, more adaptable, and they are being packed with electronics that improve communications, surveillance, and reconnaissance. Furthermore, improvements to vehicle survivability and reliability are also being made. In response, individual components must also be smaller, lighter, more reliable, and efficient. Reliable cooling systems are paramount as propulsion power densities increase, hybrid drive systems are utilized, and multiple high-power electronic systems are installed.
Barber-Nichols Model BNP-18-000 Military Vehicle Pump in RIST-V
BNI's world class engineering staff can help determine whether a prototype or modified pump will be most beneficial for your vehicle program. Barber-Nichols designed and produced lightweight, brushless DC at specified voltage or 400 Hz induction motors, air cooled, liquid cooled, mechanically sealed, and hermetically sealed pumps. Additionally, BNI places a strong emphasis on Design for Manufacturability, because designing the cost out of a product results in a better, lower total cost product that meets the customer's requirements and is easier to produce.
Barber-Nichols Military Vehicle Pump in AHED 8X8
Barber-Nichols can provide a full range of services from in-depth engineering analysis of a prototype and System Design & Development (SDD) phases, to qualification program support, to Low Rate Initial Production (LRIP) and production quantity manufacturing. If you need an expedited proof-of-concept unit for your technology demonstrator, allow us to create an optimized design to your specifications. Let Barber-Nichols provide an engineered solution for your demanding military vehicle needs.
Barber-Nichols Model 818000 Military Vehicle Pump in Shilem Radar Vehicle
Military vehicle pumps are subject to the International Traffic in Arms Regulations (ITAR) and may not be exported, released, or disclosed to non-U.S. Citizens inside or outside the United States without prior written approval from the U.S. Department of State.

Liquid & Supercritical CO2 Pumps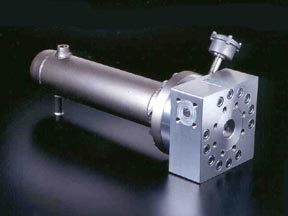 Barber-Nichols Inc. (BNI) designs and produces prototype Supercritical Carbon Dioxide (CO2) Pumps. Supercritical CO2 is an excellent solvent, and therefore extremely effective for the cleaning of textiles and electronic components. Because Supercritical CO2 systems operate at high pressure, BNI's hermetically sealed pumps are an excellent choice for this application.
Barber-Nichols designed and produced Supercritical CO2 Pumps for two dry cleaning system manufacturers. The most common dry cleaning fluid in the United States today is a hazardous substance called Perchloroethylene (PERC). These two new environmentally-friendly systems use Supercritical CO2, rather than PERC, and require BNI's circulation pumps for operation. The pumps are hermetically sealed to prevent carbon dioxide from escaping the high pressure system, and utilize Supercritical CO2for cooling and lubrication. BNI's work with low lubricity toluene lubricated bearings in the 1980s and water lubricated bearings in the 1990s uniquely positioned the company for these projects.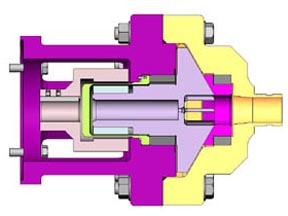 Barber-Nichols also helped customers with the use of Supercritical CO2 in an alternative textile dyeing process. Currently dye is dissolved in water and then applied to textiles. The process renders large quantities of water that must be cleaned before it can be reused or released from a factory. If dye is dissolved in Supercritical CO2 rather than in water, the cleanup process is simplified. The Supercritical CO2 is depressurized at the end of the process, the dye drops out of solution, and the gaseous CO2 and dye are easily separated.